Singing for This Year's Spokane AIDS Walk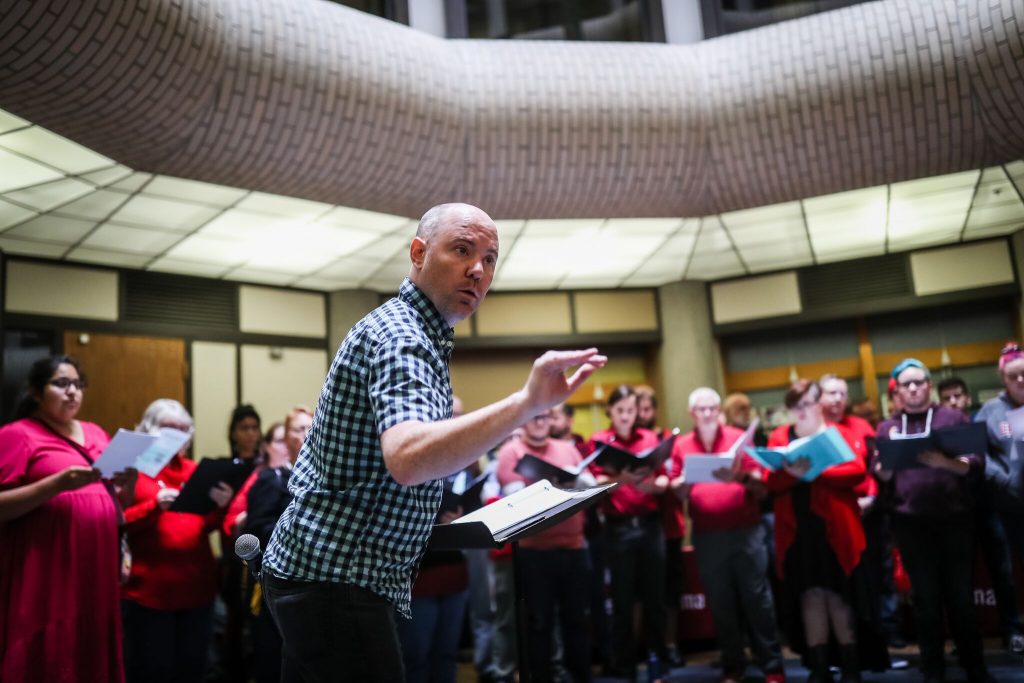 By Tobias
Snow, snow, snow in September and October! As someone who moved to Washington State last year (from Florida), the cold weather is a nice change. But I was hoping we would have a few more autumn weeks before we dipped into freezing temperatures. 

Despite the chilly weather, we bundled up and gathered to sing at the Spokane AIDS Walk on Saturday, September 28. The Spectrum Singers sang inside the Spokane Regional Health District building; the round shape and the vaulted ceiling of the lobby embraced our voices as we sang for those who were lost and continue to struggle against the HIV epidemic. This was the first performance of our Fall 2019 season as well as the anniversary of our choir—our first performance ever was singing for the 2018 Spokane AIDS Walk. This year, our new artistic director, Joshua Shank, led us in singing A Path to Each Other, Requiem, and A Million Dreams. It was an honor to be invited back to sing at Spokane AIDS Network's (SAN) event.

SAN is an outreach-focused on empowering people at risk of or affected by HIV/AIDS. Human Immunodeficiency Virus (HIV) is a virus that attacks the immune system. Without treatment, HIV destroys the body's ability to fight infections and cancers. Furthermore, untreated HIV can develop into Acquired Immune Deficiency Syndrome (AIDS). There are approximately 1.1 million people living with HIV/AIDS in the United States today. 

The community that SAN brought together on Saturday morning was supportive and welcoming. After the walk, we all sat down to see old friends, make new ones, and enjoy some delicious barbecue donated by Longhorn Barbecue. The event was also sponsored by nYne Bar & Bistro, Walgreens, Lululemon, Starbucks, KIND Snacks, and the Spokane Regional Health District. 

I am embarrassed to admit my limited knowledge of HIV/AIDS (especially because it affects so many of my queer siblings). A lot of stigma still surrounds HIV positive diagnoses, even if the time when people called HIV the "gay cancer" is over. A diagnosis once meant a more-than-certain death, and people falsely believed gay men were the sole contributing factor to the spread of HIV/AIDS around the world. HIV/AIDS is transmitted through sexual contact and blood-to-blood contact; this means that anyone could get HIV through unsafe sexual contact, injection drug use, or from a mother to a baby. 

Now for the good news! The CDC has backed the science of Undetectable = Untransmittable (U=U) campaign. U=U means that HIV-positive people who receive antiretroviral therapy and maintain an undetectable viral load cannot transmit the virus to their partners. HIV/AIDS is no longer a death sentence. Don't forget World AIDS Day⁠—December 1st. Let's spread #ScienceNotStigma.
Check out a video of our performance at the Spokane AIDS Walk here.
Read more about our 2019 fall season here.
Monthly E-Newsletter
Join the Spectrum Singers Community
Interested in keeping up-to-date on our concerts and Spectrum Singers news? Join our e-newsletter mailing list!